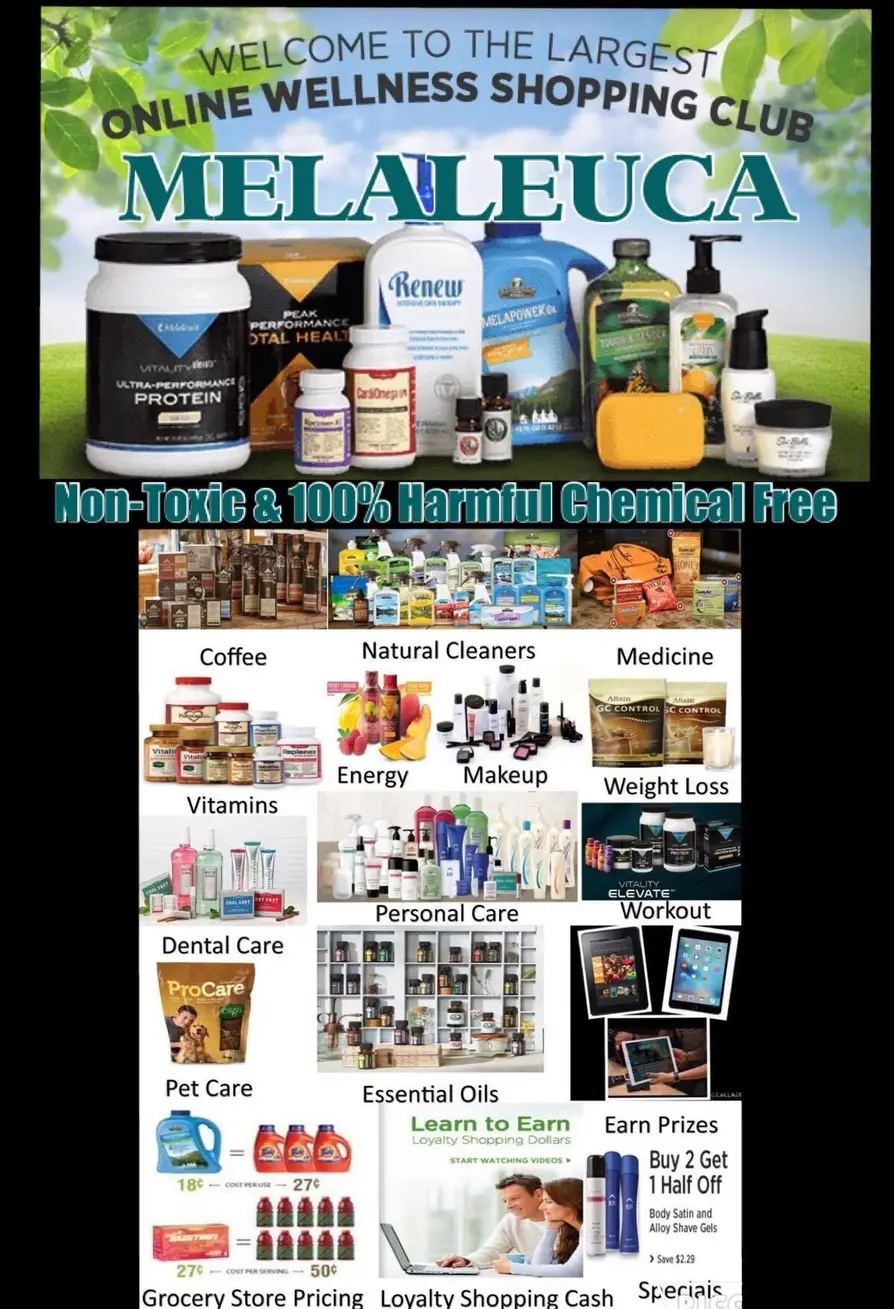 If you are reading this, chances are I sent you this link! I'm hoping you will believe me when I tell you that by simply switching a few products in your home you can drastically affect your health and that the member's of your family. What we clean our home with and our clothing has been highly linked to allergies, breathing problems, and skin conditions!
I believe that Melaleuca offers the best products at the best prices available in the market today. Since November of 2015, I has been using a number of the products including the Peak Performance Nutrition packs, non toxic cleaning products, soaps/hand lotions, and essential oils. Over 500 total products!
Membership to this online wellness club is only $19/year. Right now, anyone who joins before January 31st and places an order, membership is $1!
SO, TAKE A CHANCE, TRUST ME, AND GIVE IT A SHOT. IF ONLY FOR A MONTH!
Step 1: Fill out a short form at this link. MEMBERSHIP FORM
Step 2: In the next day, you will get an email with a link to finish filling out your membership and then you can set up your account.
Step 3: You must place a qualifying order by the end of the month. (35 points or around $60+shipping)
If at any point, you are not satisfied with a product, they offer 100% money back guarantee. If after a month or two, you do not want to place an order we can either suspend your account for the month OR just have it cancelled all together.
---
OTHER INFORMATION
PREFERRED CUSTOMER PROGRAM VIDEO PRODUCT LIST/PRICE SHEET
MEMBER BENEFITS PEAK PERFORMANCE NUTRITION PACKS LINK
ONLINE PRODUCT STORE LINK (or in PDF) ESSENTIAL OIL PRICE COMPARISON LINK (or in JPG)
Another perk of the club is a program called "Learn to Earn." By watching about an hours worth of videos about the company and the products, you will be rewarded with loyalty dollars that can then be used for purchases above and behind your monthly minimum.
Most people are so satisfied with the products and the company that 96% of members continue to reorder month after month!
If you have any questions, please set up a consultation with Dr. Hartman!